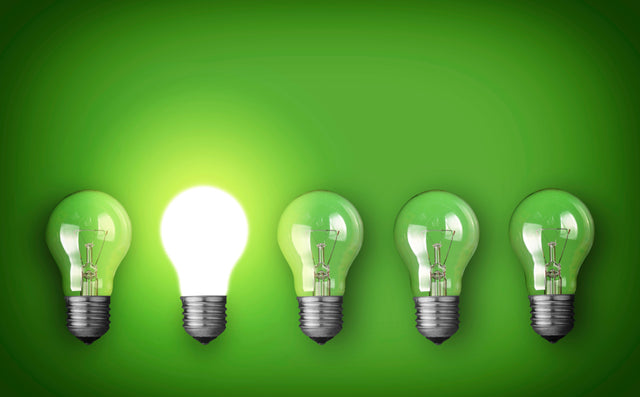 How To Write a Powerful and Effective Creative Brief
Introduction to Creative Briefs
Many times, when we think about the creative process, we envision brainstorms, funny or clever concepts, inspirational imagery…and no idea is a bad idea. Being creative is fun, exciting and refreshing, whether it be for TV, radio, print or even online advertising. And dialing in just the right message for your product or service builds belief and confidence in your business.
 
But, before you ever get to the glamour of snappy concepts and ideas, there is a critical process you must not skip. This process is so foundational to the creative process that it absolutely can be the difference between a winning campaign and a mediocre effort. 
 
In this article we are going to cover and explore how to develop and write a Creative Brief the correct way. Here's what we will discuss:


What is a Creative Brief?

The Creative Brief's purpose

What a Creative Brief should include

How to write a Creative Brief

How to implement the Creative Brief

How to extract maximum value of the Creative Brief
 
If you are new to creative brief development, then this article will provide you a good foundation to understanding the entire process. If you are an advertising or marketing pro, you can use this information as a refresher and as a supplement to what you are already doing. If you work with an agency, a good creative brief is key to keeping external teams in synch.
 
Writing a powerful and effective creative brief is a process and it takes effort, time and research. So it's good to prepare your mindset for creative brief development – that it won't be something you can do quickly. Nor should you. But what you get out of this effort will set the tone for success in your campaign.
 
What Is a Creative Brief?
Let's begin by defining the creative brief. In the advertising world, a creative brief is a document that outlines and defines the creative project, the campaign goals and objectives, target audience, marketing tactics, brand requirements, creative deliverables, desired consumer actions, offers and incentives, competitors and overall positioning. And there could be more details as well.
 
The best creative briefs are the result of in-depth dialog with your client or marketing team, based on asking the right questions for the particular project. And in many cases, creative briefs can become living, breathing documents with enough flexibility to change to the needs of the campaign.
 
The Creative Brief's Purpose
Every creative project/campaign should begin with a creative brief. And here's why. Without a clear roadmap outlining objectives, goals and deliverables, it's only a matter of time before the project begins to wander. Ultimately, collaboration and teamwork begin to suffer, and you may be setting yourself up for failure.
 
So let's take a look at the purpose your creative brief will serve and why it's perhaps the most important process of creative development.
 
A well-executed creative brief will:
Clearly define the overall project deliverables, setting all teams in the same direction

Identify which brand, product line or SKU is involved

Outline why you are embarking on the creative project

Detail clearly the primary and secondary objectives

Target deliverable timelines and dates

Become the roadmap which the project follows

Set the expectations for all team members, whether internal or external
 
In short, the creative brief is the guiding mechanism for everyone to follow throughout the project. A strong creative brief will become a frequent reference document for all team members to ensure everyone is working toward the same goal while staying within the defined parameters of the project.
 
What a Creative Brief Should Include
While there is no single format to use for every creative brief, you will want your document to convey important information. One good way to determine what is needed and what is extraneous is to ask yourself "who needs what to get this project completed"? The creative team certainly will need to know any brand requirements or must-haves, while the media team would want to know of any competitors in the space. So while not completely inclusive, the list below illustrates many common yet critical pieces of information in a good creative brief.


Project deliverables

Product background/description

Primary and any secondary objectives

Specific offers/incentives

Brand personality and characteristics

Competitors and competitor positioning

Target Audience

Desired audience reaction

Key messaging to consumer

Brand tone, look and feel directives

Call to action

Consumer reasons to believe

Copy mandates

Visual mandates

Media types

Required disclaimers

Watch outs

Metrics and measurement
 
Our creative briefs here at tandemROI take into account most of the items listed above, depending on the type of project. All in about three to four pages. Let's now examine how to cull all this information down and write an effective brief.
 
Write the Creative Brief
Before you begin writing your creative brief, it's good to take time and gather all of your information, such as product information, sales background info, historical data, research, focus group data, client input, etc. It's important to be methodical and diligent in your information gathering phase, as doing so makes compiling the creative brief that much easier. Do not rush your creative brief – it should become the guiding light for each project.
 
A good first rule in writing a creative brief is to get to the point, and stay with the point. Otherwise, you could be looking at a brief that reads more like a novel than a creative roadmap. Again, we keep our briefs to the point and can cover most key information in 3-4 pages. Every brief will be different, but the shorter the better. The more concise you can be, the less room for interpretation and missteps by team members. It is definitely called a brief for a reason.
 
Creative briefs come in a variety of formats, and there are many good, free templates online. There is no one set format you need to use. Some briefs are written completely in narrative form, while others are formatted into different sections. We have found over the years that using formatted sections (simply using tables in a Word doc) will help keep the content concise and to the point. Pick whatever is easiest for you to use, as the content is key, not the actual format.
 
Keep in mind certain sections of your creative brief will be more detailed and longer than other sections. For example, sections regarding deliverables and goals might be very straight forward and shorter, while positioning, competitive, etc. might be much more detailed.
 
As with any well written document, it's advisable to get your rough draft in place first, then review for edits and revisions. Refine and tighten. Clarify and be exact. Rough first passes on your creative brief should probably only be reviewed by those necessary to complete the document, before you distribute to the broader team/client group.
 
 Implement the Creative Brief
Proper distribution and implementation of your creative brief is key to moving everyone in the same direction, at the same time.
 
Once the creative brief is completed, it's time to distribute it out to the team, or even multiple teams. So in addition to creative, media or technical teams, you may also need to consider other stakeholders such as executive management or any outside consultants participating in the project. And in our experience, it is important to position the brief as the roadmap for the upcoming project or campaign. Questions regarding creative positioning, brand messaging, etc. should really be answered in context of the existing brief. It's always a good idea to keep the creative brief as a central part of ongoing project meetings.
 
Keep in mind that creative briefs can be updated if necessary. In fact, it is common to adjust certain areas such as product offer and pricing, as many times these components are subject to last minute revisions.
 
How to Extract the Maximum Value from Your Creative Brief
With your creative brief in place, one of the best ways to ensure strong buy-in and comprehension among team members is through communication. Don't just email out the brief and hope, or assume, that everyone is clear on the content. One method we use to ensure comprehension is to meet in person with teams and do a walk-thru of the creative brief. Doing so allows for questions and answers, clarifications and even certain modifications.
 
Additionally, if you are writing the brief for a client, schedule a time to formally walk through the document with them. Often you will find that valuable, additional information can arise at this point in the process.
 
Summary
Writing an effective creative brief is an essential part of any creative and campaign process. By capturing and organizing key ideas, thoughts and brand requirements in the beginning, you can ensure all teams move in the same direction toward the end product.

Need assistance with your creative processes?

 

Contact us today.